Dant, Enmore Caribbean Sensation 10/10 winners
By Frederick HalleyTORONTO, Canada – The script was almost the same as last year's as defending champions Dant made light work of opponents Rebels to retain championship honours when the Caribbean Sensation 10/10 tournament climaxed at the Ashtonbee ground, Scarborough, here last Saturday.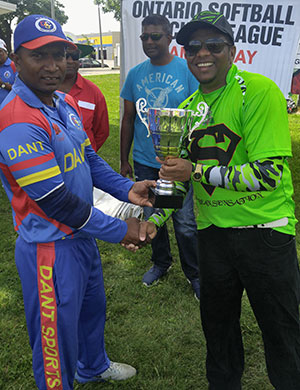 Conference A MVP Hemnarine Chattergoon collects his award from Sukhu.While the Loaknauth Ramsuchit-led Dant were hardly threatened in their lopsided win, new B Conference champions were crowned as Enmore turned back the challenge of Restoration Warriors on the adjoining ground in what promised to be an enthralling affair but ended with the former romping to an easy victory.The consolation final saw last year's A Conference runners-up getting the better of Caribbean Sensation while Ramblers whipped Bacchus Cricket Club in the B Conference.In a dominant all-round performance, Dant triumphed by 30 runs, continuing their unbeaten run in the 2017 season and also signalling their intentions of capturing all the major titles for a second year running after relinquishing the 10/10 crown in 2015.Set a challenging 91 for victory, after Dant had reached a respectable 90 for four in their allotted 10 overs, Rebels could muster only 60 for five in their turn at the crease, as the bowlers kept a tight rein on proceedings.Former Guyana Under-19 players Troy Gobin (14) and Zaheer Haniff (12 not out) were the only players to reach double figures as Satrohan 'Blade' Balkarran (two for eight), Aftab Shamshudeen (one for eight) and Riaz Kadir (one for nine) did the damage for Dant.Earlier, former Guyana Under-19 batsman Hemnarine Chattergoon, who copped his team's Most Valuable Player (MVP) award for the second consecutive way, led the batting with a top score of 24 which included two sixes while Kadir contributed 17. Extras were a healthy 31, including 23 wides. Rebels' MVP Imtiaz Moursalien grabbed two for 15.A brilliant all-round display by former Guyana Under-19 player Steve Ramjass, coupled by fine batting by Eugene LaFleur, also a former Under-19 left-handed batsman, spurred Enmore to an eight-wicket win over Restoration Warriors.Set 69 for victory after Restoration Warriors closed their innings at 68 for four, Enmore rushed to 71 for two in 7.4 overs with Ramjass unbeaten on an attacking 37 – four sixes and a similar number of fours in the process. LaFleur ended on 23 not out which included two sixes.
Harri Sukhu hands over the winning B Conference trophy to Enmore skipper Shiv Persaud in the presence of the other players.The two came together with their team in a spot of bother, losing two wickets in the first two overs with just 13 runs on the board but ensured victory with an unbroken 58-run third-wicket stand.Apart from opener Krishna Arjune's 25 (one six, one four) the rest of Restoration Warriors batsmen struggled to come to grips with Enmore's bowling, as Faheer Juman (two for 11), MVP Ramjass (one for nine) and Mahesh Ramroop (one for nine) bowled well. Arjune was awarded MVP for the losers.Caribbean Sensation's dismal season continued as Better Hope captured the Conference A consolation title with a seven-wicket victory, reaching 58 for three in 8.4 overs after limiting their opponents to an inadequate 57 for eight in their allotted 10 overs.MVP Avinash Singh, with 18, led Better Hope's batting while the bowling honours went to Mahendra Monilall (three for three), Nick Sarwan (two for six) and Rakesh Ramotar (two for 25). The MVP for Caribbeam Sensation was Imran Khan.In the B Conference consolation final, Ramblers outplayed Bacchus Cricket Club, winning by 15 runs. Set 78 for victory, after Ramblers reached 77 for one in their 10 overs, Bacchus were restricted to 62 for eight when their overs expired.MVP Hardat Chabilall (31 not out) led the way for Ramblers and received admirable support from Ron Etwaroo (25). For Bacchus, MVP Bisnauth (16) and Azhad Amidon (16) were the main scorers.OSCL president Albert Ramcharran, in his address at the presentation ceremony, complimented sponsor Harri Sukhu on his wonderful gesture and also congratulated the participating teams, especially those who had reached the final stages.Kudos were also extended to Norman Sue Bakery on the fine gesture of providing lunch for all eight teams.Sukhu, in turn, was loud in his praise of the efforts of the executives of the OSCL who he said were doing an excellent job to keep the grassroots sport alive in Ontario, but sadly enough weren't getting the recognition they deserved.Sukhu's sentiments were also echoed by Scarborough Cricket Association (SCA) president who also skippers Enmore and Dant's owner Andrew Persaud.The SCA president also urged the players to take good care of the playing facilities since the authorities are paying keen attention to that aspect.
上海 品茶 微信 论坛 上海Spa工作室 上海夜网JA 夜上海论坛MU 夜上海论坛NB 夜上海论坛RM 夜上海论坛WE 成都妖精工作室 新爱上海龙凤 爬花楼 北京论坛 爱上海CQ 贵阳约茶私人工作室 阿拉爱上海验证陆姐